How To: Install Firesleeve
Firesleeve is a snug fit over our hose, so pushing it over can sometimes be a problem. Check out the tips below for quick and easy installation.
Step 1: Select the correct size for hose to be sleeved. Cut the firesleeve to the correct length using a sharp knife or scissors. If you are installing the firesleeve onto a new hose assembly, make sure to put one hose end on, tape the other end of the hose and slide the cover over. Check out the next step for long lengths and assembled hoses.
Step 2: Sometimes the firesleeve can be tough to slide over a hose, maybe due to the length, attempting to install over hose ends or the diameter of the fire sleeve is slightly too small. The use of an air supply can solve these issues. Follow these simply tips to expand the firesleeve and easily slide it on. Firstly plug off the hose ends, and start the sleeve on one end.
Step 3: Now with the help of a friend, hold the hose and firesleeve tightly to trap air, and insert an air supply in the open end of the firesleeve and again hold closed. Gently open the air supply, this will expand the sleeve allowing you and your helper to push the hose into the firesleeve. Once the sleeve is most of the way the air supply can be inserted at the other end and repeated.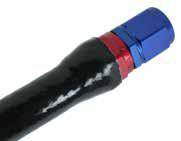 Step 4: Remove the air supply, if necessary assembly the remaining hose end and centre the firesleeve on the hose. The hose is now ready for installation, remember it is advised to clean, inspect and pressure test the assembly before using.